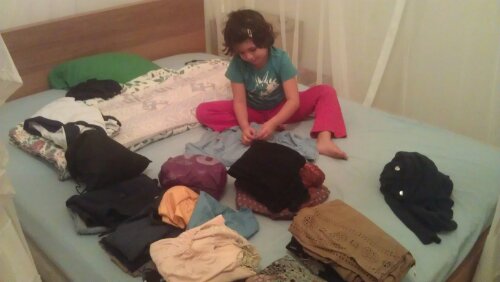 Once again trying to squeeze everything I own back into my backpack. Despite my little helper it actually won't work this time, impossible.
The happiness I felt when moving in here and the amounts of love I have felt for this family and little Ava since, have now been replaced by a profound sadness. Having a new family in Mozambique has been of huge value and I have been inspired and learnt things that I will never allow myself to forget. I will miss this home a lot.
Two evenings ago, when putting Ava to bed, she asked me to tell her a story.
So I started by saying "Once upon a time there was a little ladybug sitting on a flower" immediately thinking to myself that this was the most boring intro to a story ever.. so the ladybug was sitting on the flower, which was her entire world, and her friends and family would come visit her sometimes to hang out.
One day, a little girl came and took the flower, taking it to her house far, far away. The ladybug didn't know what was going on and she was both afraid and curious. But when the girl saw the ladybug, she took her out to the garden and put her on a big blue flower. The garden was huge and interesting, and a lot of different insects and animals approached the ladybug, one of them a scary looking blue headed lizard that proved to be a very good friend. So the ladybug had fun in her new world and she loved her new friends, but she was always missing her old garden, her family and the little boy who lived in that house, Gabriel.
"-But wait, I know Gabriel! So.. the little girl must be me!?"
The other ladybugs said that Ava and Gabriel actually go to school together and that it would be a chance for the ladybug to get back home.. so she jumped into Ava's backpack, and after a long and dangerous adventure, jumping between the backpacks of 6 year olds, the ladybug finally made ir back to her old garden and her family. However, knowing now how to go beyond her life on the flower, the ladybug would now sometimes jump into Gabriels backpack to go back to Ava's garden to meet her sweet ladybug friends, and the blue headed lizard she always misses so much.
It wasn't supposed to be this cheesy, it just happened. Most important is that Ava liked it, and I noticed only afterwards what I had actually told her, realizing that improvising stories brings out a lot of subconcious feelings.
I got this letter today: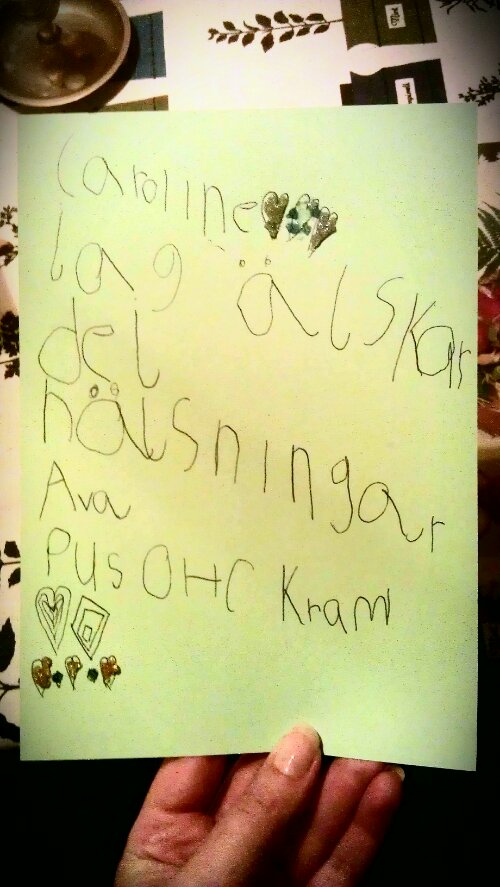 "Caroline I love you greetings Ava kiss and hug"
So I'm not leaving Maputo yet, but I'm already somehow on my way. There have been no indications convincing enough for me to know that I will be staying, not yet, and my mind is starting to adjust to the thought of going back to the cold. Maybe even accepting it as an inevitable fact. Let's see.