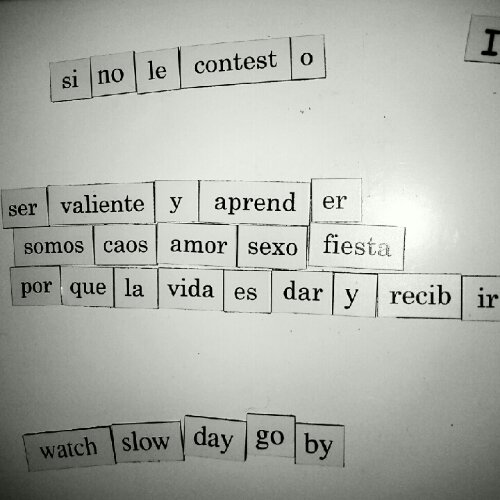 Our fridge in Barcelona once got crowned by an improvised poem by dearest Carmen from Venezuela.
I don't know why, but the fridge poetry somehow triggers my thoughts about having my own place. A place to live in, own, and decorate. First of all, I would invest in a good sound system, because sound is number one. And I would get an LP player, because there really is something about vinyl. I would make sure all my gadgets were interconnected and I would finally hang up that huge, beautiful hammock I once bought in Bolivia. I would buy strange art and expensive shampoo and spoil myself with things one just can't prioritize when living somewhere only for a short period of time. I would get many more of those huge tea cups I love, and stock up with many kinds of nice tea. And then I would always, always have a place for friends to come and visit. For a cup of tea, or for staying an entire month. Porque la vida es dar y recibir. And you know I love you tons.
—
Writing this made me dream about the discs I would want to have on LP. The first one's that came to my mind were Moon Safari by Air, Kind of Blue by Miles Davis and Little Girl Blue by Nina Simone. I would try to get hold of Hurry up, We're Dreaming by M83, and I would of course get Purple Rain by Prince, just because that show still beats all concerts I have ever been to.