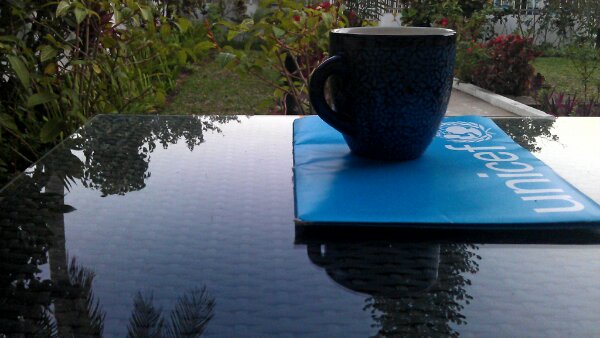 An interesting observation I made yesterday, is that this place and the past months actually have been full of defeat. Until now, I hadn't quite realized that while Mozambique seems full of opportunities, it tends to promise things it doesn't keep and build up false expectations that later dissolve into nothingness and dissapointment.
I mean, of course, I've done great things here. I've monitored elections, prisons and political changes. I've built up an interesting network and despite not having found friends I can both talk and dance with – I met a few beautiful people that I will keep with me always. I've been enjoying the weather, the music, the wildlife and Maputo. And I have traveled, seen palm trees, and learnt quite a lot of Portuguese.
But now, after five months, I must admit I'm kind of loosing my balance. What's next? Was this all? Why am I so far from the people I love, and what should I do in order to reanimate my finances? Where do I apply to get some real, sincere hugs?
So, Im starting a new consultancy on Monday, because that's what I apparently have become – a consultant, and on Tuesday I'm travelling up north. To work. Getting acces to areas I'm very interested in. Doing things I really love. Meeting people, photographing, writing stories, reporting. Contributing with my skills. Getting paid to do so. Doing it for an organization I believe in and respect.
I should be happy. What an experience! However, the general feeling of uncertainty seems to completely have killed looking forward to things. Maybe on Monday. Also, this will be pretty insignificant in terms of contributing to my budget. But still, the experience is priceless, it's an investment in myself which is worth more than anything else. Problem is that this excuse could force me to live off my savings for another year. Not sustainable.
But then, as usual and provided that proactivity won't fail, I'm convinced that something suddenly will pop up and solve everything I have been worrying about lately. And that's the thought that keeps me company while sitting on the front porch of this big house that suddenly got empty. The sun has just set, the evil mosquitoes are coming out, and a small car just swooshed by, blasting Celine Dion through its open windows.
I felt like being in a drive-by scene in some kind of melancholic musical.
Anyway, back to responsibilities and obligations – oh, happy Saturday!