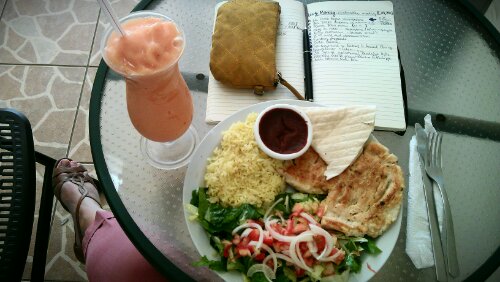 This Monday has been just the way Mondays are supposed be. Busy, packed with planning and coordination, 2do lists, exciting Skype meetings and a beautifully presented traditional Nicaraguan lunch co-starred by a fruit smoothie with strawberries, mango, orange juice and papaya.
"That's a lot of food!" My mother exclaimed last time I sent her a photo of a Nica plate.. and yes, they really serve proper portions over here. Basically, when I eat like this for lunch, I'm not hungry during the rest of the day and usually just grab a banana, mango or avocado in the evening. It's a perfect set up as I usually get home around 8pm and find most things in life more interesting than cooking for myself.
"But you can't eat out every day, that's really expensive!" Well, you know what's expensive? Buying groceries and cooking for one person. Buying small quantities turn out much more costly than when shopping for an entire family, vegetables get wasted really fast in this heat, I don't have a big freezer to store food, and I would basically need to go grocery shopping every third day – by taxi. This plate, in one of the nicer (more expensive) places around, along with the freshly mixed fruit smoothie, cost me 4.5€. I often eat for around 2€.
That puts my absolute maximum monthly food & drink budget at 120€ per month. Including smoothies, excluding cooking, and saving me a huge amount of time – for blogging, and other important stuff. (Such as dancing.)
–
After work today – Monday just wouldn't let me go – instead, it dragged me out of the office at 6pm and took me all the way to a collective salsa class at El Quetzal here in Managua. For 15$ a month, twice a week, I shall learn how to twist and turn my limbs just like these pro's that were showing off in the break during the class.
Three things to notice in the video below:
1. How the full age-range is covered.
2. Remember when I wrote that there were arms everywhere?
3. Those smiles and little playful twists that make dancing magical.
A very interesting place for people watching, and the class was actually a lot of fun despite being very basic, with clapping, counting and the instructor going "turbo!" for us to go faster. In some weeks, hopefully soon, the advanced arm twisting and spinning practice shall start. I need a pair of heels.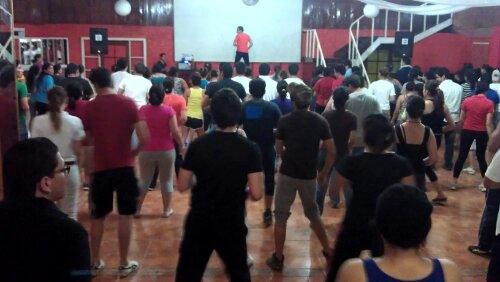 1,2,3 . 5,6,7, time for shower, mango and rest.
(And work.)