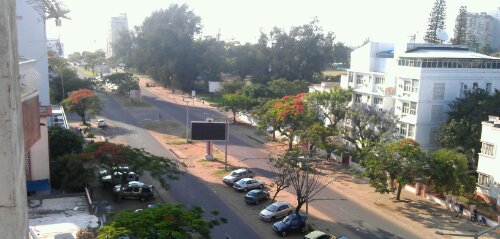 Usually loud and busy Avenida Mao Tse Tung where I live is very empty today. As is the rest of the city with closed restaurants, shops and very little public transport and people in movement.
The fares of the 'chapas', the minibuses that serve as public transport here in Maputo, were raised yesterday and people on their way to the city got angry and started violent uprests, burning cars, looting, and stone throwing, mostly in the outskirts of the city. Police cars were burning, people were injured and mobile networks and media channels were shut down. I was sent home from the office.
Today, we were instructed not to come in to office either but to my knowledge nothing serious is happening apart from some closed shops, an increased police presence, and a couple of roadblocks.
The price of a chapa ride has been kept artifically low and subsidized by the government at a rate of 5MZN, which is about 0,10€. Yesterday, years later, the price was increased to 7MZN and for many people coming from the outskirts this minimal increase hinders them from affording to commute to town. That's how poor this country is.
In central Maputo, however, most people are probably just enjoying Maputo on hold and loving the fact that they are getting a longer weekend than expected.
By the way, did I mention that Leonie is back in town?