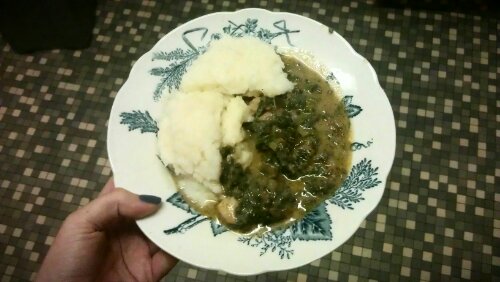 – So what do you eat over there?
– Different things. A lot of sea food, European food, sometimes sushi, and a lot of Mozambican dishes, of course.
– What's the Mozambican food like?
– It's nice! It doesn't necessarily look great, but it mostly is.
– Ooh, I want to see – blog a photo!
– Haha, really? Do you really think it would be interesting?
– Ah come on, I'm curious. Do it!
So on request, I give you today's very Mozambican dinner: Matapá de Abóbora com xima.
Translating it, it's basically cooked pumpkin leaves with a lot of coconut milk and some shrimps, accompanied by a kind of corn mash that keeps you full for two days. Very tasty stuff, if you ask me.