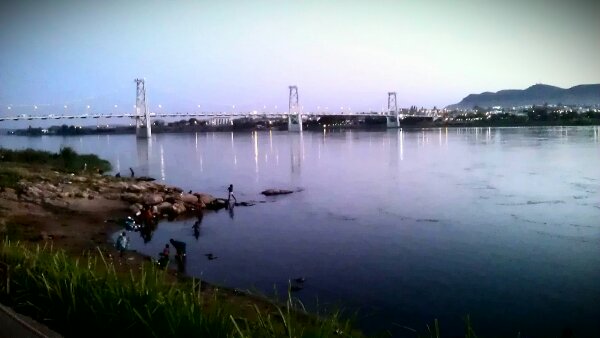 I'm in Tete, the capital of the province with the same name. It is known for being very rich in minerals, for it's booming economy and for the presence of the Brazilian mining company that many choose to refer to as evil.
So, because of the presence of this certain business, and the very rich visitors and expensive consultants it continuously receives, the hotel prices in Tete suddenly boomed to numbers completely out of proportion to the rest of the country. We're talking at least 200€ for a night in a single room. In a city that really doesn't have anything to offer other than business.
So, we are staying a bit outside, in a place where one pays 60€ for a private igloo-like house. And I love it. It's exactly what I needed after four days of running around in Shangara with kids pulling my hair, tons of sand in my eyes, mosquito horrors, nothing but xima with chicken to eat and one of the most uncomfortable beds I have ever slept in.
I am taking the flight back to Maputo tomorrow afternoon and decided that I will take the evening off tonight. So after spoiling myself with a long shower and some really good food in a restaurant overlooking the river, I found myself in the WFP compound where I met friends I had only emailed with so far, and a very charismatic Chilean woman who also works for the UNICEF and who I met on my first night in Changara. It's such a shame when great people are hidden like this in the middle of nowhere. Come to Maputo!
Tomorrow I will continue working. Wait, what? It's already Friday? Weekends don't exist in the field, especially not when you're doing something you're enjoying. Frankly, I can't wait to get back to my computer, but I deserve this sleep and I really deserved that perfect fish fillet. Yum.