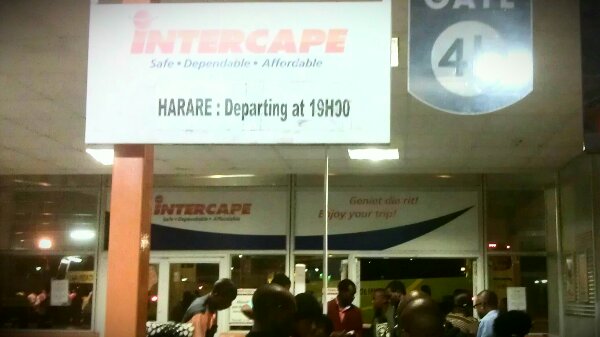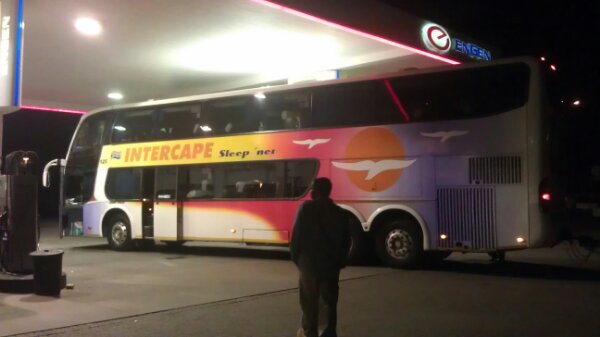 Written at 12:50, from the bus.
I was happy to see that I got a great seat in the Intercape bus that was going to take me to Harare. I am sitting in the front row on the top floor of the bus, next to Lloyd, Mercy and Prosper, all super friendly young people from Harare.
The ride started off with a collective prayer "Say amen like you mean it! One more time, say it like if it was the Champions League!" and "No number two in my loo!" by the very funny bus host.
We continued on great South African roads with less good movies and random R&B music. As we got to the border post by 4am, we had to stand in line for a long time and Prosper and I ended up being the last ones from our bus. After finally getting our stamps we saw that the bus had left to the other side. We started walking towards it and were picked up by the bus host who came rushing and said that we would have to take another bus to the other side, as the short stretch of "No mans land" bridge between the border posts of South Africa and Zimbabwe was a very dangerous area.
We hopped on a random bus to cross the bridge and arrived on the Zim side, reunited with our bags and travel buddies. The visa application procedure was a bit messy as they required me to leave the contacts of a host and a physical address in Harare, which I didn't have. Found an address in my guidebook which worked fine once Prosper had written his name as being my "host". Then I was asked how long I was planning to stay in Zim and told the truth. Got a 30$ visa for 5 days. Damn! Haha. I probably won't stay longer, but I should have said two weeks anyway just in case. I just wanted to get out of there as it was all so messy.. but I wouldn't get to do that yet.
Blue customs declaration forms. Everybody told me I wouldn't need one as I had nothing to declare but I took one anyway and filled it out just in case. When I approached the visa window I was told that it was not necessary so I just folded it up and saved it in my pocket.
When I came back to the bus, the customs officers had taken all the bags out from the bus, looking them through with flashlights. I only have a medium sized backpack so it was of less interest than the huge boxes of food and TVs, fridges and other things that people had to declare. Still, the officers approached me and asked where my bag was, I pointed at my open backpack and said I had nothing to declare. I got a "We need the blue form." and an angry look so I took out the piece of paper from my pocket, wrote "personal items" and got it stamped after they had flickered over my backpack with their flashlights.
Then we waited for at least another hour in the dark outside of the bus for a man from border control to come and check our passports for the last time before we would finally get to leave. The man came, the doors opened and then he barely even glanced at our passports. We drove off, after at least three hours at the border. I wasn't keeping track of time, but I was very surprised and happy that there were no mosquitoes around.
I fell asleep and the next time I woke up I had a beautiful sunrise and amazing landscapes all around me. Zimbabwe is really beautiful. Oh, and that blue declaration form? We were stopped again, having to show it. And then we were stopped by the police at least another six times, then I stopped counting.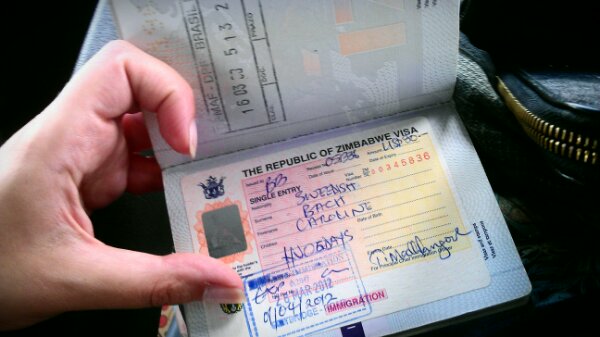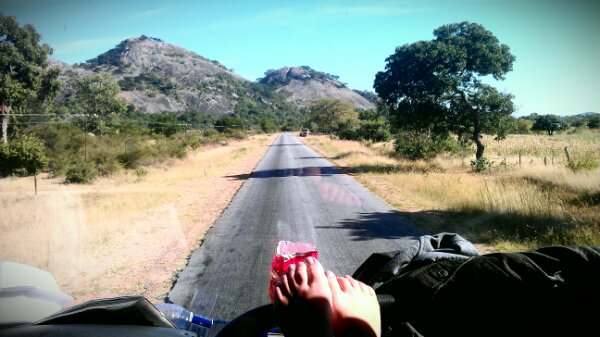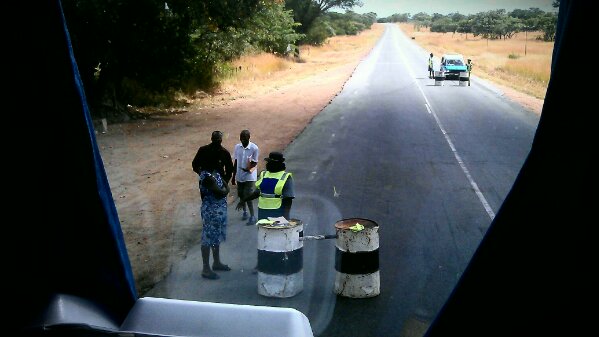 Lloyd bought a pizza for us four to share and right now i am 10km from a place called Featherstone and Harare is nowhere to be seen yet, but the bus is playing old R.Kelly, Brian McKnight and Boys II Men songs so we're having fun guessing the artists and titles. And I could watch these landscapes for hours.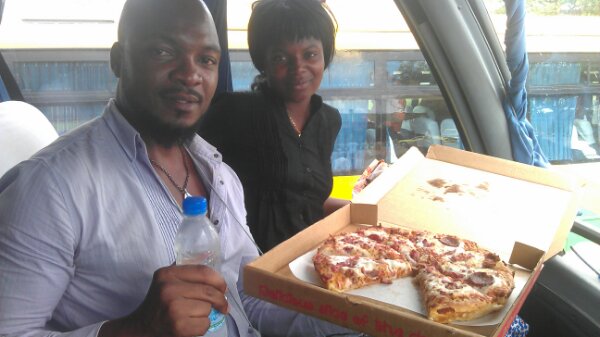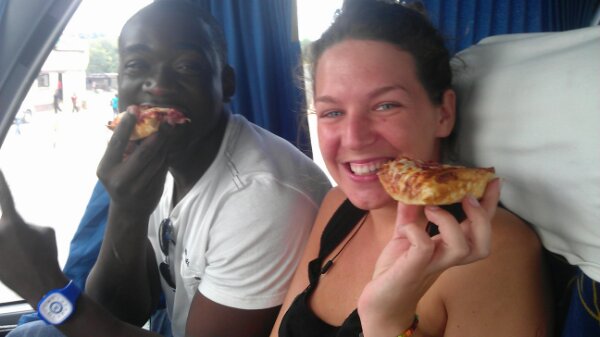 22:40 Lisa's home
Got to Harare at about two thirty, after 19 hours, and took a stroll around the city before taking a minibus to some friends place. We've been talking and eating and I actually might continue straight to Vic Falls tomorrow. Harare is really great but I have a thing for water..
Oh, and I have been adviced to skip out on Lusaka. Mainly because it isn't very exciting and because the Victoria Falls should be seen from the Zimbabwean side. I also figured that paying 50$ for a Zambian visa just to be there one day is difficult to justify. We'll see.
Good night!