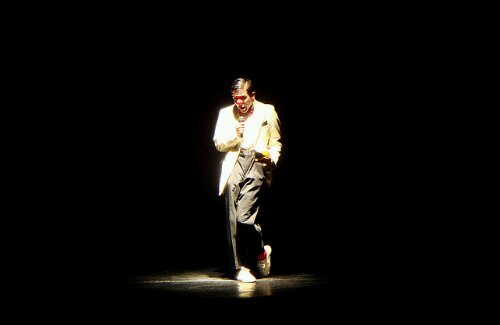 In the end of my trip around South America in 2008, I teamed up with a Chilean theatre company that was touring Bolivia and Peru. They were setting up their show for free, inviting less privileged children and families to share the art of clown and comedy with them. By printing posters, spreading the word and simply inviting people directly from the street, beautiful venues would be filled with people of all ages that normally wouldn't visit, or never had been in a theatre. They wanted to share smiles, they said. Because all children deserve to experience clown at some point. Also, this was not the circus kind of clown, it was the mime kind of clown that plays on the art of communicating emotions to the audience using carefully directed body language and dynamic improvisation. Without words. Accompanied only by sound effects and the direct feedback from the audience. It was a great show.
At one point, shortly after I had met the group, the sound technician had to go back home. There, in Peru, I suddenly had a job, controlling the sound and lights for a one hour clown performance. I had seen the show once before and I was guided through the acts in terms of: "when I put my hand up, the lights fade to red and this track starts, ok?" that was kind of it. With my notes and vague understanding of sound controls I was completely in charge. And it was just insanely exciting and fun.
Stand Getz & Charlie Byrd
Jazz Samba LP (1962)
I discovered The Jazz Samba disc by Stan Getz and Charlie Byrd many years ago. With this experience, however, it now has a priceless nostalgic value that strikes me every time my iPod shuffles to it. At the minute 9:27 in the video above, "O pato" starts. This was the song that was used between the acts and in the intermission. I must have heard it hundreds of times over without ever getting tired of it. And today it reminds me of how simple and beautiful things can be.
Working as a sound technician and travelling with clowns was a time of contemplation, where I learnt to accept that happiness and having fun is all that actually matters in the end. No matter what they tell you.