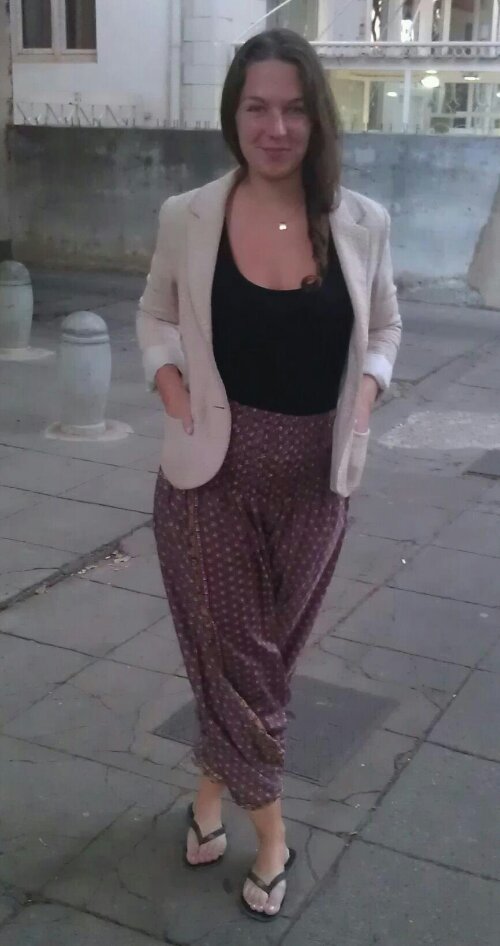 Welcome to Caroline's world of fashion, style and self-expression!
Straight out of the capital of Mozambique and the mysterious African continent, I bring you the newest hype in fashion – autumn of 2012 is spelled "international" and here's my contribution.
The photo was taken today when me and my roomie left the house to go buy salad and bread in the supermarket. I hadn't been out all day so it was very exciting to get out for a moment.
Want to copy the style? Here's how:
India pants, Streetmarket in India 2010, 8€
Tank top, H&M in Spain 2011, 12€
Blazer, H&M in Sweden 2002, 20€
Havaianas, Streetmarket in Brazil 2008, 5€
You might want to call this style "eclectic", or maybe "different". It's definitely "personal", and a bit "vintage". I simply choose to call it "Please stop. Where's the salad?"
I suppose my aspirations for a big career in fashion blogging won't work out. But don't get me wrong, fashion can be tons of fun, and I very much enjoy nice fabrics, colours, styles and combinations. As much as I never cared what I was wearing before, at some point in 2009 I discovered that consciously choosing clothes can be great fun. So sure, I do have some sort of fascination for fashion and good design, but I really don't have the ability to take it seriously.
Meanwhile, I can't wait to see how many clicks this post gets. It somehow seems like many of my readers have completely different interests than I do.
For those of you who feel like you need an antidote now:
A free braille newspaper has been launched in Guatemala. The UN recently published a new World Drug Report that the Economist used to make a not very surprising but nice graph presenting which countries in the world have the highest rate of cannabis use. And Mr Morsi is promising the Egyptians social justice and an end to discrimination and torture. Fingers crossed.