I spent some time waiting on the border between Zimbabwe and Botswana, as the company I was doing the Chobe-tour was supposed to pick me up there. They didn't. When I realized they must have forgotten about me, I hitched a ride instead – and met Moses. Moses is a tour guide for a different company that does Chobe park tours, and was just about to drive to Kasane, which is the town just next to the Bots-Zim border. We spoke about my plans in Kasane and he asked me where I had booked my lodging. which I of course hadn't yet.
So I got:
"Well, this will sound very strange and I don't know why I'm saying it – but you're pretty cool – so if you want to, you can feel free to stay at my family's place. I've never done this before but I can ask my mother and see if she thinks it's okay."
Moses dropped me off by the Kalahari tours office and as you saw, I got in time to join their tour anyway. While I was on the boat cruise, Moses texted me that his nephews were eager to meet me. He picked me up after the tour and we drove to his home.
The house was a bit outside of Kasane and Moses lives there with his mother, his sister, and his nephews. I got to meet them all except from the sister who was out travelling, I was to sleep in her room. I also got to see Moses' room that he had decorated by painting different characters on the walls. The walls in the living room were decorated with magazine clippings. There was a room for the kitchen where are the kitchen utilities were stored but Moses said: "We Africans like to cook over fire, so we cook outside" while pointing at a fireplace next to the house. The kids had a playstation, but only one controller.
Moses went off to have a shower and I spent some time talking to 20 year old Kachere who was too shy to look me in the eyes – instead he kept looking into the tv while talking, with a huge smile on his face. "What's the matter?" I asked.
"Nothing, sorry! It's just that this is so strange. You are the first white person to visit our home. And the first white person I have ever spoken to. I'm so happy. This is great."
We laughed about it. And then we spoke about Zlatan, Islam, kannibalism and Bill Gates. I took some photos. And while I went to take a shower, Kachere wrote a message in my Moleskine: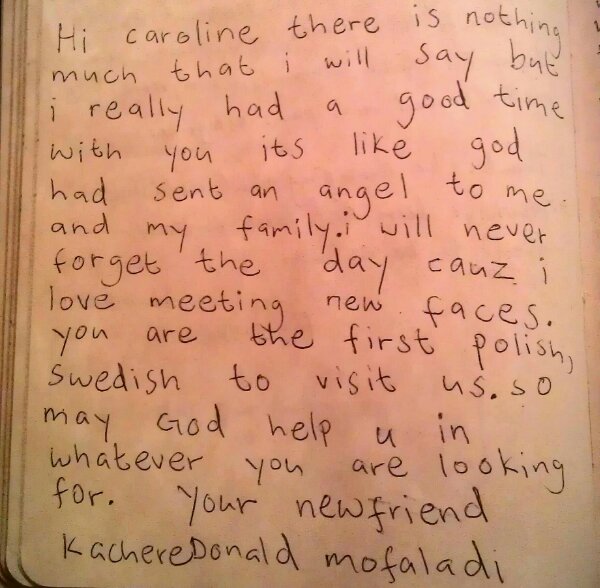 Moses came back with his nephews who had been too afraid to come in to the livingroom. It was weird for them that I was there and they giggled away while answering my questions. The brothers, 17 and 9 years old, were clearly very attached to each other which was very nice to see despite the big age difference. They were both shy, but what I really noticed was that the younger Panashe was a very bright kid. Moses confirmed that the boy with the name that in Subia language means "where god is" was exceptionally good in school so it wasn't only me being biased by his crystal clear English. Great!
Later, the mother came home. I jumped up to greet her and we instantly connected in the way only ladies can. We hugged, laughed, giggled, hugged again and laughed even more. Moses translated which was great – but it was not necessary. I expressed my gratitude for her letting me stay there, she was happy I was visiting and wished me all the best. We hugged again, and laughed even more. It was amazing.
Me and Moses had a talk about his childhood, family and future. I felt extremely privileged to get those quite heavy insights into his life, and thankful for his trust and honesty. We spoke about electricity, as I noticed that all the lights and electronics in the entire house were on from the moment it became dark. Moses told me that that was the custom, and that the electricity company usually walks around the townships, exchanging normal light-bulbs to energy saving ones. Electricity is very expensive. So I asked why they didn't save electricity by turning the lights and TV off when they left a room. There was no real answer to that. They just simply don't. Not even when going to sleep.
In the evening we went for dinner at Moses' best friends place that was just a short walk away. The food he had cooked was great and we spoke about humanitarian aid, politics and Top Gear. It was already late as we walked back home, and some dogs followed us all the way.
In the morning Moses gave me a copy of The No. 1 Ladies' Detective Agency with a nice dedication, and at 5am I was on a bus again. On a bumpy & slightly chaotic ride to Namibia. Very thankful to Moses, thankful to his family, and with a refilled karma-account that I now will have to spend on a stranger.
I love friendly and helpful people, and I'm sure the world would be a prettier place if more people were like Moses and his family – assuming that they would also turn off their lights before going to sleep, of course. ;) Good night!