First there was a Monday flat.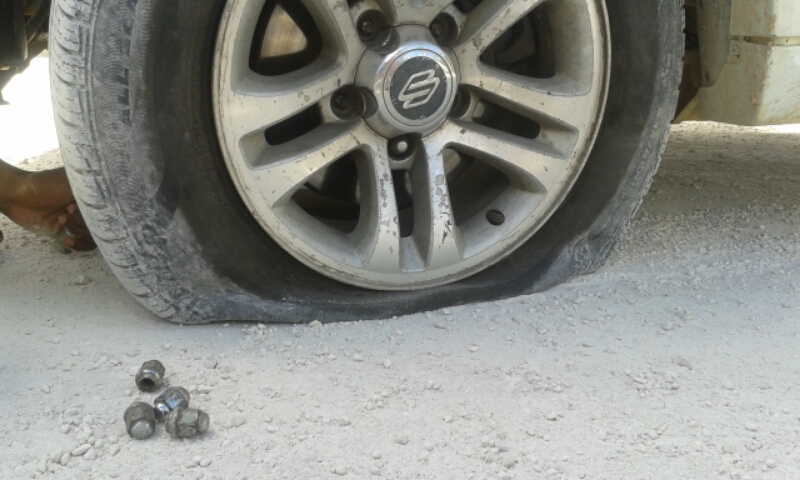 As I was leaving the office (that I went to despite the public holiday) the tire was suddenly completely flat. I was surprised, but got the jack out and started changing the tire when the security guard from the building came running and said he would help. Thank you, Richard. "A friend in need is a friend indeed! Any time, miss Caroline."
I drove home. Got my camera, and went down south to take some photos of a kid (again, for work) as my car suddenly started acting funny with the rpm's dropping rapidly as if it wasn't getting enough gas and was choking. So Suz finally died on me and wouldn't get enough power to kick off, in the middle of nowhere in South Side Belize City. I was happy it was still bright out. Cancelled with the boy, a bit sad as the light really was perfect for photos..
"My car stopped, I will need to be towed.. what the hell." I wrote to Michelle. Just to share as I was checking online for towing trucks. "I'm coming" she wrote, and it took her literally 5 minutes to get there with her security guard who towed me home through the city.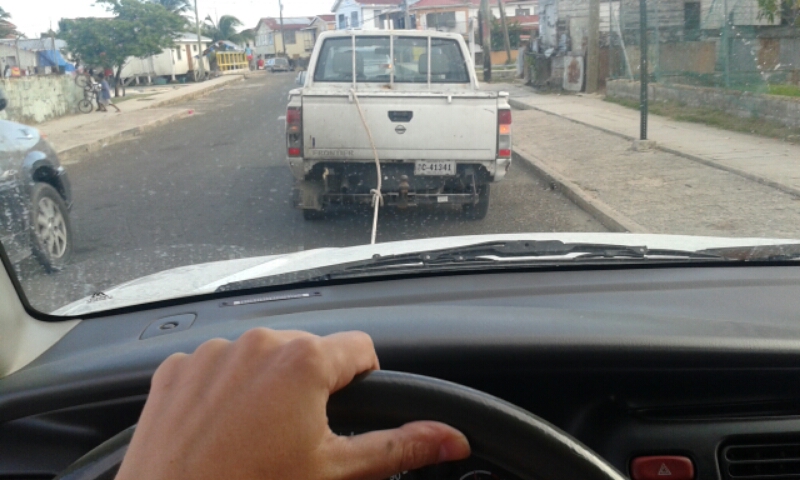 Michelle took me to Shell where Patricio and the other guys (who work there) kindly let me borrow a container and get some gasoline back to the car.
I filled Suz up and she magically started again. Michelle left, I went back to Shell and got Suz some injection cleaner, a full tank of V-Power fuel, checked all her fluids and hooked her up with some sweet air in the tires. (The other one was indeed completely punctured.)
Surprisingly, all the fluids were perfect. (They have all been leaking out and giving lots of trouble since day 1.) So the issue must have simply been that the gauge for gas got stuck and she was almost empty and taking in all the bottom trash from the tank.
Oh, dear Suz. I know they treated you badly before you met me, but I try my best.. did I mention you look great after that engine wash? And I promise to get you a nice set of tires this week. Can we become good friends and start trusting each other after that?
(Yes, I talk to my car. Haha)
..
Lessons learnt today? People are absolutely, extraordinarily, amazingly friendly here. Security guards, gas station employees, all these people that I see all the time and wave hello to don't hesitate for a second to help out and support with a friendly smile.
And Michelle, one of the warmest and kindest people I've met and officially my "5 month friend" (I always meet the most amazing people after spending 5 months in a place!) I'm so utterly grateful for her immediate way of showing me that I'm cared for. I'm really looking forward to continuing to build our friendship, and the next dinner is on me!
Monday adventures with Suz became a reminder to be thankful for the beautiful people I'm surrounded by here. In the midst of my loneliness, I'm in fact not alone at all. There is light all around me and I just need to start taking it in. A very good and important day and reminder indeed. It's a bit silly, but I'm actually happy that Suz decided to set these surprises up. (And do hope they were the last ones.)
And the last lesson learnt? I know you love your job, Caroline, but DON'T WORK ON YOUR HOLIDAYS!