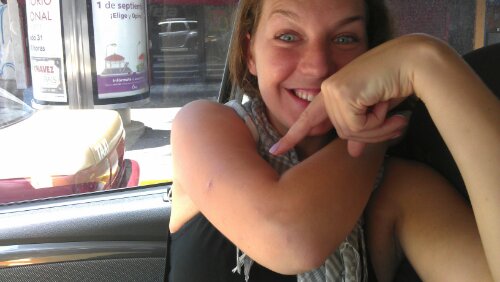 At some point I started doubting that I had actually seen that white little head peeking out from the hole in my arm. Was I imagining? Was it just fluid? Had I convinced Ady to "see something" as well? Why was there nothing in my blood?
This morning, after sleeping only for one hour, Chema took me to a dermatologist who took a look at my arm, asked a couple of questions about where I had been and then went, all excited, "Ooh, wait a minute!" and got on Google to read an article.. "Yes, yes – Myiasis!"
Myiasis is an infestation of the skin by developing larvae of a variety of fly species found in hot and humid climates. The larvae enter the skin and feed on the tissue, also they develop reversed hooks that make them difficult and dangerous to remove.
I sat there nodding and looking at the hole when, suddenly, she showed up again to get some air. "Look, there she is!!" This time we were three people who saw the curious little thing.
"They need oxygen." the doctor said. Makes sense. "Can I call my doctor friend? This is a very unusual case and I would really like to show her!"
So we Skyped a colleague of his while I was talking to the little white creature and laughing about the absurdity of the situation. "Don't be so sweet to her, swear to her in Polish!" the doctor laughed and prescribed what he said would kill them in maximum two days plus antibiotics to clean out any remaining infections. And "a special trick from my province, Jalisco.. chewing gum."
So, the remedy against Myiasis?
1.  A strong dose – 2 tablets of 6mg Ivermetin (Ivexterm)
2. A 7 day antibiotics cure with Amoxicillin 500mg
3. Chewing gum covering the holes to suffocate the larvae and force them out.
Friends who were with me in Estelí, please check your bites, if you have anything itchy with a central hole in it – get to a doctor immediately.
I have only seen one of three of the larvae so far, can't wait to greet them all. Suffocated. Muhahahahaa!!