It gets lonely, it gets frustrating and overwhelming, it feels sad and pointless when uncertainty dominates the horizon. "What am I even here for?"

I'm far from loved ones, far from any form of reliable safety net, far from feeling protected and cared for and far from hugs, love and any realistic potential for growing roots and building a home. I miss birthdays, weddings and people to share my own celebrations with. It breaks my heart that I can't always be there for my people and nourish the relationships that matter to me the most. The future always feels very uncertain and I can't plan far ahead. I don't know where I will be in a couple of months.

But I have something else that I can't imagine living without yet. At some point in life I decided to live as curiously as possible and make the most out of my reality at all times. I wanted to explore, learn, enjoy and celebrate the little things. But first and foremost I knew that I have to work for a cause I believe in, feel passionate about, grow for and respect. I knew I have to be excited about things to feel fulfilled, and that I can never let fear or worries decide things for me. It's on the other side of that threshold that things get truly enriching.

And it has been working out so far. I swim upstream, I struggle, I go alone, I take risks, I return to square one, I feel lost and hopeless at times – but on the way I have discovered the most beautiful of places, feelings, people and reasons to love the world. I have discovered that water always heals. And seriously now, I adore my job. I really love what I do and what I learn on the way.

Thank you dears for hanging in there even though I'm far away and busy with work so often. Thanks for your patience, for staying in touch, for keeping me up to date, for finding the time for calls and emails.

And when people I miss and love decide to actually hop on that long flight to come here and experience a piece of my world and reality, I'm just overwhelmed with gratitude and joy. Thank you!

Love!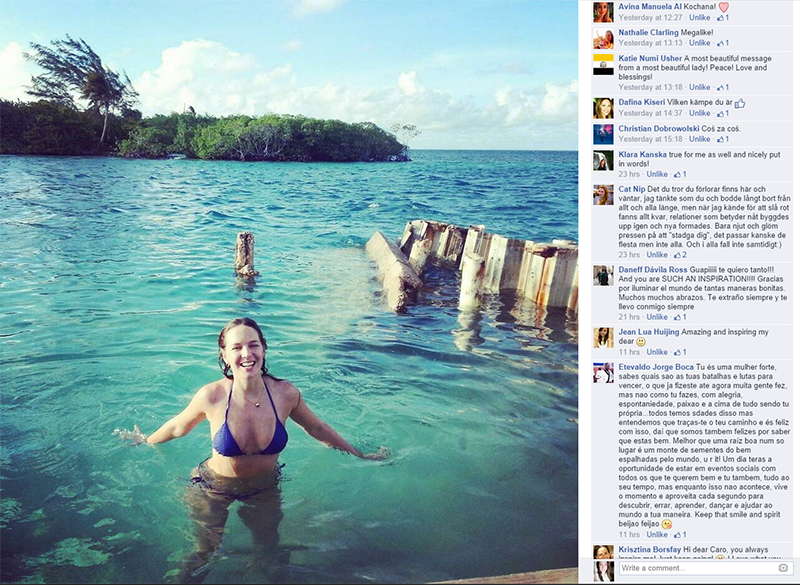 Friends from many of the places where I've left parts of myself came together and gave me truly beautiful feedback and shout-outs of support on my status update. Thank you all – it means the world to me!
One of the comments was a piece of advice from a wise friend who also lived abroad for a big part of her life:
"The things you think you are losing are right here waiting for you, I used to think the same when living far away from everything and everybody for a long time, but when I felt like starting to set my roots it was all still there, the relationships that matter get built up again, and new ones are formed. Just enjoy and forget about the pressure to "settle down", it might be the best option for most people but not for everyone, and certainly not at the same time :)"