August 2014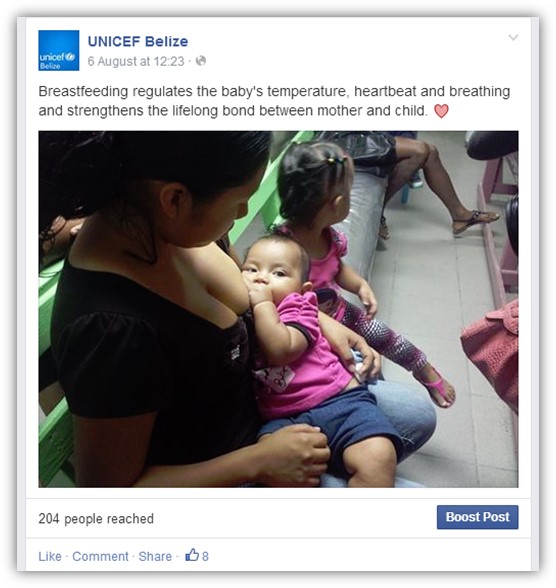 World Breastfeeding Week was a hot topic this year on social media when famous actresses, models and other mothers started sharing personal breastfeeding photos and public statements in an effort to encourage young mothers to exclusively breastfeed and fight the stigma related to breastfeeding in public spaces.
Here in Belize, our aim is to address the percentage of children who are exclusively breastfed, as the number is at a worrying 14.7% low, leaving more than 6 out of 7 children unprotected by the benefits of breastfeeding. Interestingly, the number also hides an early discrimination between the genders, as it is at only 10.5% for boys and21% for girls, which will have serious implications for the Belizean society, knowing how beneficial exclusive breastfeeding is to children's health, intelligence and overall development. Also worth noting is that the discrepancy between urban and rural areas is at 10.9% vs. 17.3%, with the lower prevalence in urban areas. (MICS, 2011) This is reportedly due to the difficulties for working mothers to find time to breastfeed, as well as the popularity of bottles and various myths and misconceptions related to the practice. Serious efforts have been made recently in breastfeeding promotion and the introduction of Baby Friendly certification in Belizean health centres, which hopefully will show in an increase in numbers in the coming survey.
To inform the general public about the benefits and importance of exclusive breastfeeding, UNICEF Belize coordinated with TV Channel 5 Belize, The Ministry of Health and the Pan American Health Organization (PAHO) to join in on the information dissemination efforts for World Breastfeeding Week. The joint efforts resulted in a 40 minute special segment on the popular Open Your Eyes morning show, with the participation of a public health nurse, a medical officer, and a PAHO nutrition specialist, discussing the benefits of breastfeeding and responding to some of the most common concerns and myths.
Channel 5 also agreed to make breastfeeding the main topic on their weekly health segment, Healthy Living, with footage from a Baby Friendly Certified clinic featuring health practitioners and mothers explaining and discussing the benefits of breastfeeding. The segment was aired directly after the widely watched evening news.
Live updates, articles and information were also shared via the UNICEF Belize Facebook page throughout the week, and media houses received and disseminated the international press release and information.