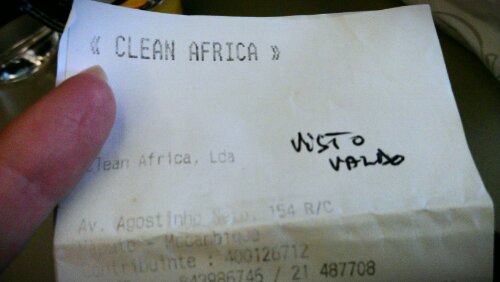 (I'm on my Copenhagen – London flight, will continue & publish this when on the ground.)
Found a receipt in the pocket of my blazer just now and it made me smile. Thanks for picking up my things from the dry cleaner's, Ete. Little acts of helpful kindness like that mean a lot, finding a nostalgia triggering note in my pocket means even more.
I finally have a moment for reflection and can't help but noticing the familiar feeling that embraces me every time I set off into the unknown like this. It's some kind of soft calm and "resetting" mode of the entire system. It's like I automatically try to blank out my mind, erase all expectations, detox from prejudice and just arrive at my destination with a fresh canvas to paint all my impressions and experiences on.
Sure – I do research about the political situation, useful practicalities and some cultural practices, but I always try to avoid colourful guidebooks, stories and photos. I think that every place deserves its shot at attempting to strike us with awe, surprise us and just being fantastically unpredictable, fresh and different from whatever we have experienced before.
My camera and I can't wait to see what Nicaragua has to offer. I am very happy about being on my way again, about going to work for UNICEF once more, about speaking Spanish full-time soon, about having beautiful friends that stay in touch even though I so often miss their birthday parties. And I'm extremely thankful for having such a supportive and understanding mother that keeps track of my every step, is happy for me even though I'm far away, and makes sure that I bring my quinoa oats with me.
You know your mother has been actively involved in your packing when there is random food and chocolate stuffed in the corners of your bag.
Little, but big, things.
I'm waiting to board my American Airlines flight to Miami now. Munching on lactose and wheat-free chocolate and orange cookies, holding on to my bottled water – oh, and I got that Managua boarding card without any hassle so all should be fine now.
The British Airways flight was once again COLD and the breadroll was a joke just like last time, I guess it's their thing.
Okay, boarding – see you next time from a very different timezone!