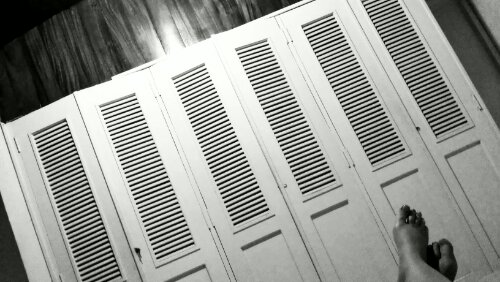 My new closet made me think of you, Cicirella, and look – I even closed all the doors to your honour!
It took me one week to look around and decide on where I will be living here in Managua, and I'm really enjoying my new place. My room is airy with a high ceiling and big windows both to the east and the west, the closet is huge so I can hang all my stuff up and don't need to have anything laying around, my bathroom is mine, mine and only mine, I have my own patio for breakfasts im the sun or wine under starlit skies, and I'm fifteen minutes by foot from the office.
As a bonus, I have the funniest landlady ever. She is a super fit, energetic and positive 60-something year-old that looks at least ten years younger and lives a couple of minutes away from here. We went grocery shopping together when I had moved in today after work and decided that we should continue doing so because we had so much fun. Haha. And she bought me new towels!
It's all a lovely deal – the only problem is that I'm not the only one loving it. Wait, what's that? A spider, a mosquito, a fly, a big, red ant? Oh darn, they're all over!
Good thing that I generally don't mind bugs, but if any of them starts sucking my blood I'll Baygon the soul out of every living creature in this place.
Hear that, you evil things!? My blood stays in my veins, this restaurant is closed.