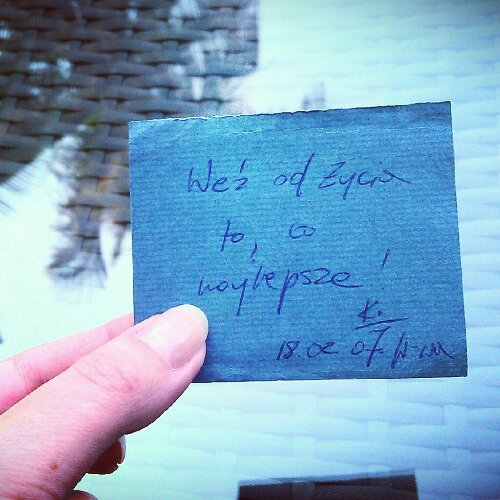 I got this note for my birthday in 2007, one of many birthdays to come that I would be celebrating abroad, far from my closest one's. I had been living and studying in Warsaw for only four months at that point, but I had already met beautiful people that I stay in touch with until today.
The note is a kind of Carpe Diem shout out in Polish telling me to "Take what's best from life!". It's simple and straightforward, and it was given to me at a point in life when I was still in the phase of dreaming big and not really knowing what I wanted to do with my life.
Five and a half years later, I still keep the note in my wallet. Not to be reminded to take what's best from life – but to be reminded about the years that have passed and that I actually have been doing so since. And that good friends can be found at any time and any place.
Okay, that's all for today's cheesy feel-good entry, I can't take myself seriously anymore. Haha, have a great Sunday!