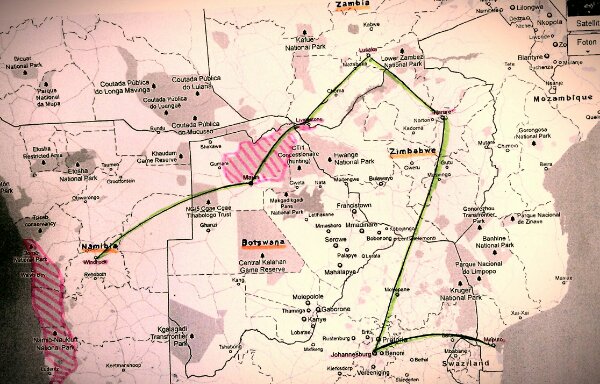 There is a good reason to why I usually don't share my travel itineraries and it's because I see them as "options" rather than frames, and because they almost always change along the way. However, after finding a lot of support for my plans in blogs and information sites, I feel that I should contribute by sharing. So here goes, very preliminary, the plan for my "going west for Easter" trip.
I never make strict plans and I usually fly home from a different city than where I started my trip, with flexible dates. So all I have to do is making sure I have enough time to get from A to B, but if I don't its usually also ok.
This time I don't have unlimited time the same way as I have to get back to work after my trip, so I need to be careful with losing time on waiting. But anyway, I'll start from the beginning.
I am going by bus to Johannesburg, (9h, Intercape, 30€) as it is my closest and most convenient transport hub that I basically need to go to first before going anywhere else. (If I don't want to pay 400€ for a flight)
So, I was considering flying from Joburg to Harare in Zimbabwe, but the flight ticket was almost 200€ and I was already halfway, with a busticket for only 35€ (18h, Intercape). Quite perfectly, the bus times clash so I just have a 3 hour wait in Joburg before embarking my next busride, so I don't need to waste any time or money in Joburg. This way I hopefully arrive in Harare the next day by noon. After many hours on the road, but with enough money to actually eat and see something.
Once in Harare, things are not yet planned, I will meet friends and visit offices, and I will walk around and ´do what I usually do. I will probably stay at friends place the first night and maybe at a hostel the second one to see if I can meet people, I have really been missing travellers around here.
After Harare, the thought is to cross the border to Zambia and visit Lusaka before continuing to Victoria Falls. Botswana and the Okavango delta is somewhere in my itinerary after that. And if the rumour is true that public transport between Botswana and Namibia is complicated, I might have to hitchhike my way across the border. In Namibia I want to hang out a bit in Windhoek, visit the beautiful Namib desert that I have had a crush on since Gregory Colberts "Ashes and Snow", and maybe see some more animals.
Then it's time to get back again, and instead of bussing for 38 hours, I decided that a flight Windhoek – Joburg for 120€ was a fair deal. And then I have ten hours to do some shopping before I hop on the last bus of the trip. Joburg – Maputo, Intercape, 9 hours. Already booked. Hopefully I'm on it.
As you see, I'm flexible in my travelling, but I'll let you know how things go. I might even share photos. haha
And right, I'm leaving early morning tomorrow! Ciao!