I have a Chinese name that my dear friend Lu Zhen gave me when I was in China last year. We sat in our favourite café in beautiful Kunming talking about everything and looking forward to the Korean kimchi sushi next door.. and then she made the name up for me.. and it's perfect!
So, it's Meng Xin Min or just Xin Min.. what it means?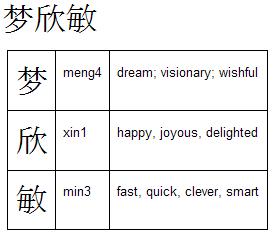 I love it..
When I went to the town Lijiang a couple of weeks later, I found this hand carved wooden hair stick in a small store. I had the artist carve my Chinese name into it.. and it was beautiful! Unfortunately I lost it some months later.. as hair-sticks have a tendency to dissapear. Today I just use regular pencils to keep my hair in place.. but I'm looking forward to go to China some time again soon, so that I can find that old man in Lijiang.. and ask him to make a hair stick with the tail of phoenix bird for me again.. and of course with my name carved into it.